CRITICAL ZONES

Barbara Marcel's artistic project Ciné-Cipó / Cine Liana at ATTO Tower (2020) was commissioned for and is being exhibited at CRITICAL ZONES. Observatories for Earthly Politics.

Virtual Opening Friday, May 22, 2020, 6pm
23.05.2020.–09.01.2022, ZKM Atrium 1+2

An exhibition by ZKM | Center for Art and Media (Peter Weibel, Bettina Korintenberg, Daria Mille) in cooperation with French philosopher Bruno Latour and Martin Guinard-Terrin.




For a long time the reactions of Earth to our human actions remained unnoticed, and have now finally – not least due to recent international climate protests – moved into public consciousness.

The exhibition project »CRITICAL ZONES« invites visitors to the ZKM | Center for Art and Media to engage with the critical situation of the Earth in a novel and diverse way and to explore new modes of coexistence between all forms of life. The artistic project CINÉ-CIPÓ / CINE LIANA at ATTO Tower (2020), by Barbara Marcel, integrates the exhibition as a video installation that shows the production and exchange of different types of knowledge – scientific knowledge from the international scientific community as well as traditional knowledge of the people living in the Amazon rainforest. Click here for more information on the project.

As a research and exhibition project, »CRITICAL ZONES« explores the urgency of bringing together skills, knowledge, disciplines and cultures to jointly create a cartography of the multitude of Earths. Over a period of five months, the exhibition simulates on a small scale the model of a new spatiality of the Earth and the diversity of relations between the life forms inhabiting it. The exhibition creates a landscape that makes the public understand the characteristics of the so-called »New Climatic Regime«, a term coined by Bruno Latour to describe the global situation affecting all living things. Not being limited to ecological crises, the term also includes questions of politics and cultural history as well as ethical and epistemological changes of perspective. As an observatory of »Critical Zones«, the exhibition aims to steer a debate towards new Earthly Politics. This special combination of thought experiment and exhibition was developed by Peter Weibel and Bruno Latour in their previous collaborations at ZKM. »Iconoclash« in 2002, »Making Things Public« in 2005, and »Reset Modernity!« in 2016 constitute the three former »thought exhibitions« (Gedankenausstellungen) that resulted from their intensive working relationship which now spans twenty years. »CRITICAL ZONES« is characterized by an extensive collaboration of artists, designers, scientists and activists. Art, with all its imaginative, speculative and aesthetic power, takes up the important challenge of developing new forms of representation and options for action in an overall situation that has not yet been clarified. Many of the artists working on this project originate from non-Western countries, broadening the view of European ways of thinking, which we have learned to describe as global modernity.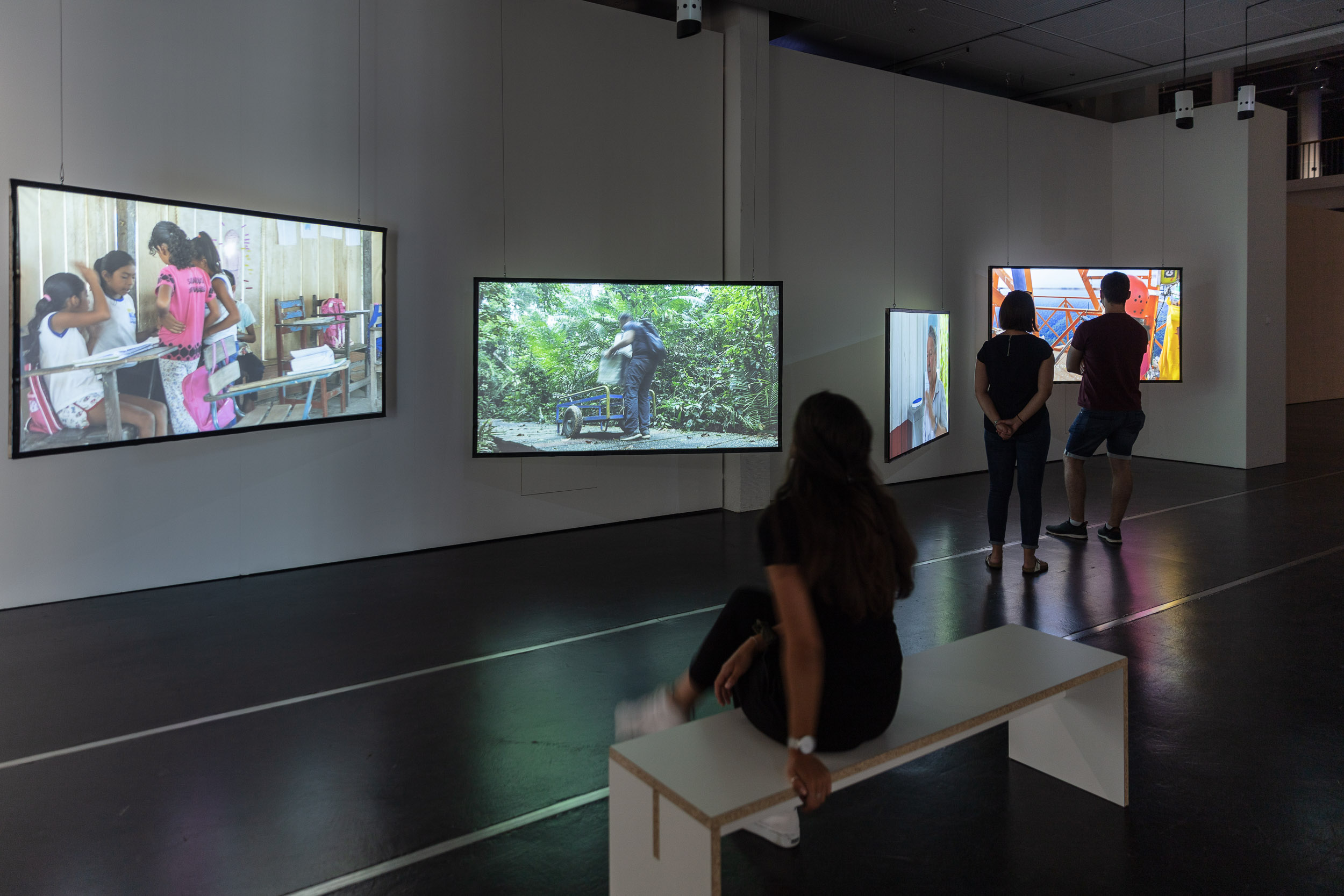 Ciné-Cipó / Cine Liana at ATTO – Amazon Tall Tower Observatory. 2020, Multichannel video installation, aprox. 140 min.

Commissioned for the exhibition, CINÉ-CIPÓ / CINE LIANA at ATTO (Amazon Tall Tower Observatory) addresses different perspectives and knowledge systems that challenge the veracity of universal assumptions about science and society and multiply the modes of engaging, understanding, and living within the Critical Zone. The ATTO is an international scientific project studying the complex interactions between the forest, soils, and the atmosphere in order to understand the role of the Amazon basin within the Earth system. In her video work Barbara Marcel observes the daily life of the ATTO observatory's scientists and two local women activists as they collaborate to produce a radio piece that communicates different forms of knowledge, visions, but also threats concerning the Amazon.

With the collaboration of Natalina do Carmo Oliveira, Milena Raquel Tupinambá. Produced in collaboration with ZKM | Karlsruhe, Serrapilheira Institute, Max Planck Institute for Biogeochemistry Jena and with the support of INPA-National Institute of Amazonian Research and Goethe-Institut São Paulo.

In addition to the on-site exhibition in Karlsruhe, the videos from the project were partly made available in the online exhibition, designed on account of the pandemic. Click here to see the project on the online exhibition: https://critical-zones.zkm.de/#!/detail:cine-cipo-cine-liana-atto-amazon-tall-tower-observatory



---
FLUIDE REALITÄTEN

(Fluid realities)
Collective exhibition at Kunstbrücke am Wildenbruch, part of the Kommunale Galerien Berlin.
Curatiorial team: Dorothee Bienert, Yolanda Kaddu-Mulindwa, Daniela Nadwornicek, Isabelle Stamm; Plakatwand: Uwe Jonas.
4.9.–31.10.2021



In the middle of northern Neukölln, an unusual art venue is being created: the Kunstbrücke am Wildenbruch. In the whimsical rooms of the historic toilet facility on the Neukölln shipping canal, the municipal gallery is launching an exhibition on the theme of water, the central basis of all life on Earth. How do ecosystems develop when climate change leads to changes in the global water balance? What are the consequences of human intervention in natural cycles and how can the balance be restored? The artists in the exhibition deal with water as a habitat and with its socio-political dimensions; but they are also fascinated by the physical existence of water and make us aware of its magical powers.

Of ecologies, people and systems
Caterina Gobbi, Douglas Henderson, Bettina Hutschek, Armin Linke, Barbara Marcel, Sophia Pompéry, Alina Schmuch, Phillip Sulke

Of noise, lightning and doom
Felix Kiessling, osa - office for subversive architecture, Raul Walch, Hans Winkler



---
BIRDS AND BUOYS

9 April - 13 june 2021, at Bärenzwinger Berlin. Double exhibition with works by Nadja Abt and Barbara Marcel and curated by Isabel Jäger, Katja Kynast, Malte Pieper, Maja Smoszna.


The double exhibition »Birds and Buoys«, with works by Nadja Abt and Barbara Marcel, brings two complex and long-standing artistic strands of research together and deals with transatlantic labour and the cultural history of shipping and mining from a feminist and queer perspective. Together, the works reference the architecture and history of the Bärenzwinger as well as its immediate neighborhood.

»Birds and Buoys« works visibly outwards, communicating acoustically and visually with the neighbourhood in a colourful, collectively designed reinterpretation of the Bärenzwinger's structural shell. It also comments on its urban proximity to the historic harbour, the Brazilian Embassy and the Marinehaus (former clubhouse of the imperial navy). Inside, intimate and essayistic reflections reveal the transformative powers of "queering" nature, tight spaces dissolve into fantastical scenes and stories that were once hidden appear. "Birds" and "Buoys", as named in the exhibition's title, are distinguished by their ability to indicate something. The presence of the canary songbird, as Barbara Marcel's work addresses, is an indication of a toxic environment. Nadja Abt uses buoys as figures that rise to the surface and refuse to be pushed into the invisible. The homophonic terms buoy and boy can only be distinguished in writing; the verb "to buoy" also means to lift one's spirits, to be empathetic, to help someone. It is precisely such transgressions and "différances" that the exhibition works with, it is this kind of relating that it proposes: What can be learned and unlearned from landscapes ruined by mining? How can the violent history of seafaring be rewritten as feminist and utopian? How can we navigate, to paraphrase Ursula LeGuin, the "Port of Darkness"?



What can you do with a hole in a valley? Where can you wander when the earth no longer holds? Do the landscapes of non-cities and their seductive call to solitude remain compelling in times of urban disintegration? What might be learned and unlearned in the augmented topographies of such ruined landscapes? How to wander over and under such unsteady ground? Barbara Marcel's project "Golden Tone" is derived from her research into the historic and cultural landscape of Harz, the western mountain region of Germany, where many of the mining technologies of mineral soil extraction were first developed and later exported across the world. The video installation reflects on the intersections of the past, present and future of this anthropogenic landscape through the particular history of the breeding, training and trading of canary birds in the region. In a video assemblage featuring hands and machines, silver and serinettes, contaminated heavy metal hills and falling spruce trees, touristic tours and intimate interviews, the iconic landscape of the German Harz gradually reveals its many hybrid layers, giving way to an open field of transformative sonic flights. "Golden Tone" is a film about the Harz Roller canary birds, the domestication of mines and the queering of nature.




The exhibition »Birds and Buoys« opens the annual Bricolage programme and with it a series of explorations into the less visible present and history of the Bärenzwinger. With bricolage we seek to dig deeper and reach further, to look at historical and contemporary constellations and to, upon loosening the glue, reassemble them. In falling in line with Donna Haraway, one could say that we are in the process of making new material-semiotic knots, just like the concrete maritime knotting techniques used in »Birds and Buoys«. Curated by Isabel Jäger, Katja Kynast, Malte Pieper, Maja Smoszna.

Further events
28.4. – Paz Guevara in conversation with Nadja Abt, Barbara Marcel, Katja Kynast (Online on Zoom)
2.5. – These Birds of Temptation. Book presentation with Barbara Marcel and K. Verlag (Open-Air)
20.5. – Guided tour through the neighbourhood of Bärenzwinger with Berlin Postkolonial e.V. / Dekoloniale (German)
27.5. – Wayfaring Strata. As We Move Along. Audio Walk choreographed by Sonia Fernández Pan with music by Stephen McEvoy
3.6. – Guided tour through the neighbourhood of the Bärenzwinger with Berlin Postkolonial e.V. / Dekoloniale (English)
13.6. – Birds 'n' Buoys Bloco. Finissage with, among others, Nadja Abt, Barbara Marcel and Tom Nóbrega

More details on the exhibition at: https://www.baerenzwinger.berlin/EN/Program/Birds-and-Buoys-EN/

Click here for more info on the book THESE BIRDS OF TEMPTATION



---
SÜDSTELLIUM

20.04.2021-20.05.2021, Berlin. Artistic intervention on billboards at U1 Kottbusser Tor subway station (Kreuzberg - Berlin)


The Südstellium project was selected by the Project Funding Friedrichshain-Kreuzberg 2020-21 and supported by the cultural and artistic state funding of the city of Berlin.

For Galery Weekend Berlin, three Berlin-based Brazilian artists occupied billboards in the U1 subway in collaboration with artists in Brazil.

With SÜDSTELLIUM, the artists Ana Hupe, Barbara Marcel and Matheus Rocha Pitta initiated an exciting cooperation with Brazil and opened up Berlin's urban space for an unusual artistic intervention. The exhibition project Südstellium included artistic interventions on three subway boards located at the U1 Kottbusser Tor subway station and started at Gallery Weekend Berlin. Berlin-based artists Ana Hupe, Barbara Marcel and Matheus Rocha Pitta rented the platform boards for 20 days to deliver messages from the skies of the global south that are not so evident from Berlin. A stellium is a collection of stars or celestial bodies; the term southern stellium is an invention that uses terms from astronomy, astrology, and geopolitics. As a poetic invention, SÜDSTELLIUM is a forward-looking rather than a descriptive term: when we look up at the sky, we project our earthly concerns onto it, for example, by attributing figures as constellations.


The collaborations proposed by SÜDSTELLIUM reveal, through art, pieces of the current situation of remote territories. The idea of how the first image of the black hole was achieved in April 2019 guided the concept of these artistic dialogues. Six astronomical observatories, each located in a different country, were aligned and took a picture each of a frame of the black hole. Hundreds of terabytes were generated and brought in HDs to a lab in Germany, where the pieces were bonded together to form a whole picture of this cosmological phenomenon. The mysterious object described by Einstein in 1916 was made accessible for the first time to our eyes. Until then, it only existed on a theoretical plane. Given its distance from the Earth, it would be necessary to capture its image with a lens of the same diameter as our planet. However, through an orchestration of seven telescopes around the globe, an image of its evidence was finally possible. This discovery is taken by SÜDSTELLIUM as a paradigma of the power of collaboration and producing alliances. We all look at the same sky, of course using different lenses, but still we have something that unites us all, possibly common horizons.

Click here to read the article about the project in the German newspaper taz - die Tageszeitung.



---
AGROPOETICS

Soil is an inscribed body. On Sovereignty and Agropoetics (Savvy)

Research, performance and exhibition project with Dina Amro, Archipel Stations Community Radio, Luis Berríos-Negrón, Filipa César with Ahmed Isamaldin and Ali Yass, Binta Diaw, Leone Contini, INLAND, Raphaël Grisey, Mia Harrison, Zayaan Khan, Yen-Chao Lin, Barbara Marcel and Ana Hupe, Julia Mensch, Pedro Neves Marques, Cedric Nunn, Elia Nurvista, Uriel Orlow, Lerato Shadi, Bouba Touré, Hervé Yamguen.

31.08.– 06.10.2019, Berlin



SOIL IS AN INSCRIBED BODY. ON SOVEREIGNTY AND AGROPOETICS is a project examining both the anti-colonial struggles of the past and the current land conflicts across the world to resist the invasiveness of neo-agro-colonialism and its extractivist logic. It germinates through a series of readings, interventions and workshops, and materialises in an exhibition (30.08.–06.10.2019) and a performance/discursive programme at SAVVY Contemporary (13.09.–15.09.2019). The project seeks dispersed and yet networked moments of cross-pollination between artistic strategies and agroecological initiatives from molecular to geopolitical scales.

We reflect on state and capital devastation of natural landscapes as well as on forms of self-determination and autonomy performed by local communities as a rejection of the capitalist and colonial model of agriculture, engaging in a critical analysis of certain techno-scientific epistemologies and biopolitical practices. From the free women's village of Jinwar in Rojava to the work of communities such as the Associação para o Desenvolvimento Integrado da Mulher (ADIM) in Guinea Bissau and the agroecological activism of the Beni Aïssi village in Morocco, amongst others, we are learning from these possibilities of enacting cooperative farming practices and alternative communal life, of cultivating and building living spaces of emancipation and liberation. And yet agriculture is also being weaponised as a warden for national identity: the relationships between blood and soil, between identity and land are being essentialised and made terrain for xenophobic argumentations and paranoid constructions of the other.

How can anti-colonial and environmental alliances nurture each other? How can we sustain interspecies entanglements and polyphonic multidirectional futures? How can we transform ruins, erosion and damaged landscapes, and embrace tactics of precarity to make living possible despite economic and ecological ruination?

The soil is an inscribed body, a scarred terrain, a multitude of organisms that hold a history of erosion. It is a container and a meeting space for collectivities. This project is a tentative testing ground for artistic engagements with the soil as vessel, body and carrier for speculative, collaborative futures. We are exploring this through the practices of artists such as Bouba Touré, Raphaël Grisey, Julia Mensch, Filipa César and Inland, who are directly working with agroecological initiatives involved in struggles for land sovereignty in Mali, Argentina, Guinea Bissau and Spain. Elia Nurvista, Pedro Neves Marques, and Uriel Orlow are working on complex bodies of work and research around the extractive and violent patterns of neocolonialism and xenophobia created around agricultural practices and migrations of plants, while Barbara Marcel and Ana Hupe point to indigenous technologies that challenge these practices.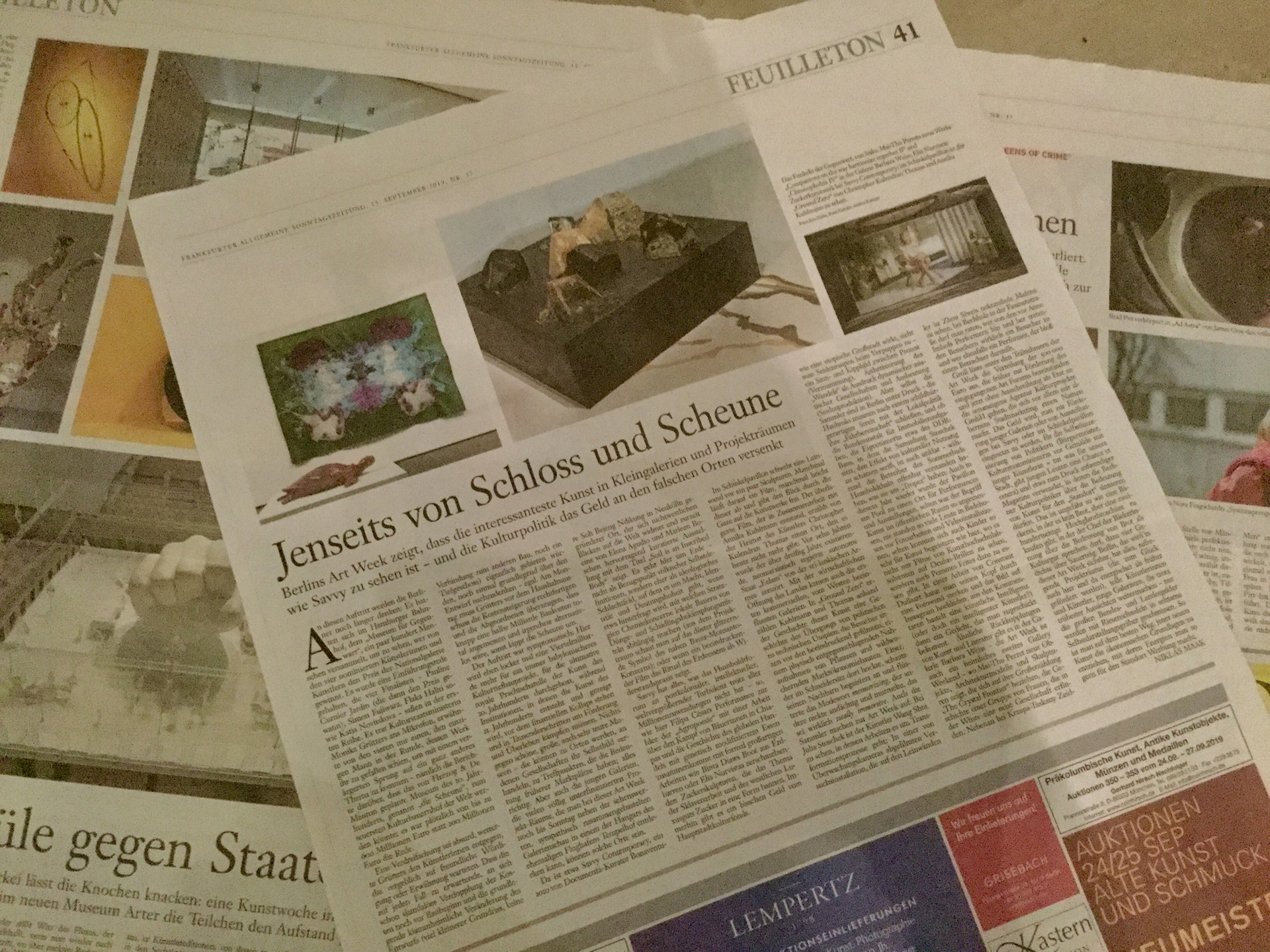 ---